IMMERSE YOURSELF IN WINTER ELEGANCE
Winter on the lake
Privacy – Elegance – Inspiration
Culinary discoveries, cozy comfort, trails and nature, when the snow falls softly on the shores of Lake Massawippi, Le Ripplecove becomes an enchanting picture of Canadian winter. Come and stay in a destination steeped in the beauty and fragrance of the Eastern Townships!
THE MAGIC OF RIPPLECOVE
Holiday season on the lake
The holiday season is a magical time, and what better way to celebrate this enchanted season than with a getaway at Ripplecove Hôtel & Spa? Nestled in the heart of a picturesque winter landscape, this establishment offers a sumptuous getaway where luxury, comfort and festivities meet.
Discover exceptional comfort
Luxury and rest
Fill up on energy
The Ripplecove Hotel & Spa offers an unparalleled level of luxury and a breathtaking view of majestic Lake Massawippi.
Experience comfort made to measure.
Enjoy and relax
Discover the fine cuisine of the Riverain
A destination of choice for epicureans, the Riverain offers fine local cuisine influenced by the local products that nature offers according to the seasons.
NOVELTY
Discover Espace Villas
The brand-new villas at Ripplecove Hotel & Spa offer an incomparable level of luxury.

Set on the shores of majestic Lake Massawippi, the resort offer comes with full access to the Ripplecove site. Come stay in luxury and comfort and enjoy our upscale services such as our 4-diamond restaurant Le Riverain, our bar Le Cove, tasty as an aged whisky, our jacuzzis, sauna, pool, Arboressence spa and the whole Ripplecove experience!
PRESTIGE celebrations for your team!
Some great dates available
🎄Eager to offer PRESTIGE moments to your team? The holiday season is approaching, and there's still time to organize a chic event. We still have a few dates available to mark the end of the year with your team in chic, inspiration and harmony! 🎄 At Ripplecove, we've got three freshly finished rooms designed to offer a warm, festive and hushed ambience, on the shores of Lake Massawippi and worthy of the finest winter evenings. That's a total of six rooms for the events we can offer and tailor-made team activities.
BUSINESS & EVENTS
Choose Ripplecove's elegance for your events!
Ripplecove is delighted to announce the opening of its new event pavilion. Celebrate elegance, harmony and inspiration on the shores of majestic Lake Massawippi.
The Ripplecove experience
TIME FOR US
Treat yourself to a perfect match
A Ripplecove Hotel & Spa experience
Unforgettable moments
Enjoy the peace and relaxation at Ripplecove!
Our exclusive spa is your sanctuary from the cold and stress and bustle of everyday life. Treat yourself to soothing treatments, relax in our sauna or enjoy an invigorating moment in one of our Jacuzzis in our Espace Détente. The ultimate winter getaway to soothe body and mind.
Discover an exceptional comfort
This winter, take care of yourself
For an invigorating winter, treat yourself to our Escale Bien-être package.
Worth the drive or detour. Every aspect of our stay was either perfect or peaceful - from check in, to the tour of the facilities to the room and its full amenities. Abstain from the restaurant if you want ordinary / bland food. Breakfast and dinner were excellent, creative and delicious. Bien fait tous le monde. We will definitely return.
Un endroit de détente Un endroit de détente que vous apprécierez, étant situé dans un décor magnifique près d'un lac. Un séjour agréable tel que la qualité du service, de la salle à manger, de la chambre et la gentillesse du personnel.
Site enchanteur 🤩 L'endroit et le site est enchanteur, le personnel est attentionné et professionnel, la qualité de nourriture et la composition des plats du restaurant Le Riverain est excellente. Le Rippelcove est l'endroit par excellence!
Peaceful vacation spot on lovely lake. Beautiful modern room (apartment) #107 overlooking lake with lively patio with sofa and dining area. Loved the washer & dryer, fully equiped kitchen, but needed step stool for top shelves.Unfortunately, due to a big construction project all facilities were not available- spa, part of roof top lounge was roped off.Had to walk around cranes, materials and workmen. We were not made aware of this when booking, no discount nor waving resort fee was offered.Room/ suite was wonderful but no instructions on using thermostats. Asked 3 different front desk people till someone knew how they worked- one for airconditioning, one for heat and one for heated floors. Staff was very kind but some needed training.BreKfast was very good- service and food.Dinner at restaurant had idyllic view of lake. Service was excellent, special kudos to Audrey our sever.. Sadly food was only fair, overly complicated ingredients that overwhelmed protein, yet bland flavors that needed some spark. Extensive winelist.Would be 5 star if had better Chef, no construction and better trained staff.Amazing location and charming property.
Cruiser17920644420
2023-05-30
La meilleure expérience client en restauration et hôtellerie Nous avons passé un séjour mémorable au Ripple Cove grâce à M. Roy ainsi que toute l'équipe de la restauration, qui sont d'une gentillesse exemplaire et ils ont tout fait pour que notre expérience soit des plus agréables.
Beautiful hotel in a gorgeous location! Beautiful location right on the lake. Rooms were exceptionally clean and comfortable and staff was wonderful. The restaurant was excellent, be sure to do the half board. Both dinner and breakfast were excellent. Staff was very accommodating on every occasion. Mr. Roy even gave us a tour of the magnificent wine cellar. They are undergoing construction right now but they did everything in their power to minimize the impact (but it was a bit noisy at times). Can't wait to go back.
Un séjour gastronomique mémorable. Un séjour gastronomique exceptionnel sur le merveilleux site du Ripplecove Hôtel et Spa. L'hébergement est absolument douillet, le personnel est courtois, attentionné et nous ne pouvons passer sous silence les mille et une attentions du maître d'hôtel du restaurant Le Riverain, M. Roy, si attentif au bien-être de ses convives. En dépit de la construction, un mal nécessaire à l'agrandissement du site et de l'achalandage printanier, nous nous sommes sentis très à l'aise de parcourir le site. Malgré les aléas de la température en ce mois de mai, ce séjour a été mémorable. Nous tenons à souligner la haute gastronomie du restaurant et l'excellence de la cave à vin.
Sightsee44617274391
2023-05-05
Séjour exceptionnel Notre séjour était magnifique, la vue de notre chambre sur le lac, WOW. Le restaurant était excellent, la nourriture était excellente et une attention extraordinaire pour nos allergies. Nous avons manqué de rien, le service était exceptionnel. Il y avait cuisine complète et laveuse/sécheuse dans notre chambre, nous étions 100% indépendant. Nous avions accès à des vélos pour se promener en ville et de belles pistes cyclables à proximité. J'y retournerai c'est certain ! Merci, nous nous sentons reposé !
Your wedding, like nowhere else
Meeting spaces offering a friendly meeting environment, conducive to exchanges and reflection.
Your important meetings, perfectly orchestrated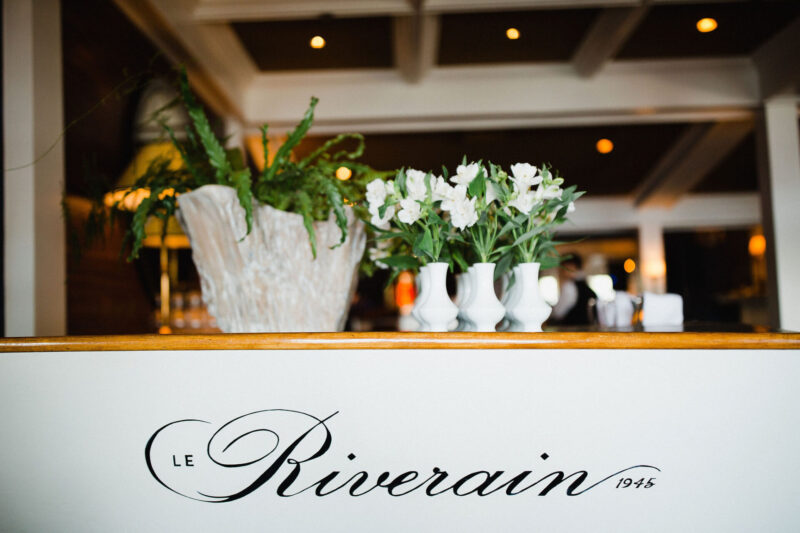 What if Ripplecove was the unique venue you were looking for for your wedding ceremony and celebrations?